---
COVID-19 Government Childcare Subsidy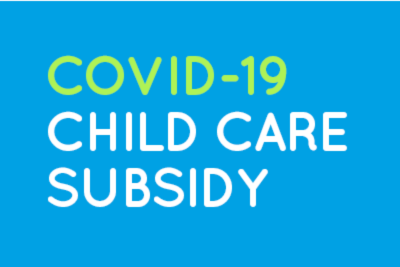 Last week the government announced new measures to try and help childcare centres stay open during the COVID-19 pandemic and ensure the continuity of care for young children. The new package comes into force from 6 April, 2020 but will be applied retrospectively from 23 March 2020 – which is the time we were asked to comply with social distancing and self-isolation recommendations.
What does this mean for you?
The new childcare subsidy means that you will not have to pay for the care provided by MELC if you continue to work (either from home or at your normal place of work) during the COVID-19 situation.
It also means that if you have a child enrolled at MELC, but choose not to send them because you are able to care for them at home, your place at the Centre will be guaranteed during your absence and you do not have to pay fees to keep it.
Do you need to claim the subsidy?
You DO NOT have to claim the subsidy. A payment of around 50% of our total fees will be made directly to MELC by the government - and as a result we will not bill you anything.
Are there any conditions MELC must abide by?
In return for receiving a payment, all childcare services are required to:
stay open unless closed on public health advice or for other health and safety reasons
ensure families are not charged a fee, including an out of pocket fee
prioritise access to care to essential workers, vulnerable and disadvantaged children and previously enrolled children
continue to record attendance of children
comply with all other provider obligations including National Quality Framework and other relevant conditions of approval under Family Assistance Law.
Is it safe to send my child to care?
At MELC we take the health and safety of our staff and children very seriously. We are following all the necessary social distancing and hygiene recommendations from the government, including extra cleaning and sanitising and enforcing good hygiene practices amongst the children. As always, we care for your children in the same way we would care for our own.
If you are an essential worker and need care for your child, we are here for you.
What should you do now?
Most importantly, if you are still working and require care for your child, please continue to send them to MELC. It will not cost you anything while these arrangements are in place.
If you are not currently working and prefer to look after your child at home, keep them enrolled and your place will be guaranteed at the Centre when you return. If you cancelled your enrolment recently because you have been stood down or you are out of work, we would suggest you re-enrol your child at the Centre (even if they don't attend during this time). You will not be charged any fees while the subsidy is in place, but it means that your place is guaranteed if you get a job when this period ends and you require childcare.
If you would like any further information, or want to talk to us about your child's enrolment please give us a call on 02 4573 6686 or email [email protected].
Back