---
Information Evening - Prep Program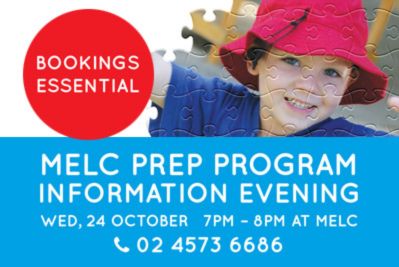 Prep Program Information Evening
MELC will be hosting an information evening on Wednesday 24 October 2018 from 7pm-8pm at MELC for families with children at the Centre, and any new families who might interested in enrolling their child into our highly regarded Prep Program,
With over 12 years of formal schooling in front of them, your child needs all of the pieces of their life's education to fit together, so that they have the easiest transition possible between stages. Our Information Evening will provide an overview of how you can help to ensure your child is ready for "big school", as well as illustrating what the MELC Prep Program entails and how it might be of benefit.
Bookings for the evening are essential - call the Centre on 02 4573 6686 now to reserve your place or email [email protected]
We'd love to see you there!
Back