---
The Gables Slidey Park Grand Opening!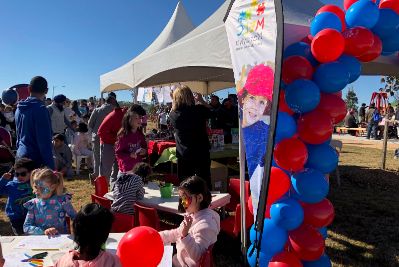 MELC was thrilled to be part of The Gables Slidey Park Grand Opening on Sunday, 15 July 2018 when hundreds of locals and new residents gathered with their families to celebrate a third brand new neighbourhood park in the popular estate.
The MELC tent was a hive of activity with children of all ages exploring their creative talents to create some very special entries in the colouring competition. Staff from MELC also enjoyed the opportunity to meet more local families and discuss their individual childcare needs as they move into the estate. With MELC only a five minute drive from The Gables it was a valuable opportunity to talk about the services we can provide new residents - from high quality long day care, to occasional care, our pre-school Prep Program and vacation care for the primary school aged children.
A special thank you goes to the developer of The Gables, Celestino, for hosting the event which included lots of great food, music and entertainment for everyone.
Back